AISI 440C Stainless Steel Balls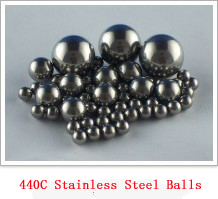 | | |
| --- | --- |
| C | 0.95-1.20% |
| Mn | 1.00% max. |
| p | 0.040% max. |
| S | 0.030% max. |
| Si | 1.00% |
| Cr | 16.00-18.00% |
| Mo | 0.075% max. |
| --------- | ---------- |
| --------- | ----------- |
| | |
| --- | --- |
| Tensile strength | 285,000 psi |
| Yield strength | 275,000 psi |
| ---------------- | ------------- |
| Modulus of elasticity | 29,000,000 psi |
| Density | 0.277 lbs/cubic inch |
Application areas:
AISI 440C stainless steel ball is usually used in demanding industries: aviation, aerospace,
bearings, motors, high precision instruments, valves, oil, precision and anti-rust performance.

Features:
Microstructure of a martensitic steel, the production process requires high.The heat
treatment process is more complicated, easy to crack, and the high accuracy
requirements, is the most hard ball in a stainless steel ball: HRC ≧ 58. Hardness close to
the bearing steel ball, but than the former has more rust and corrosion performance.
Tell us your balls requirements, the offer will be send you at the first time.










* According to the AISI standard