AISI 316 Stainless Steel Balls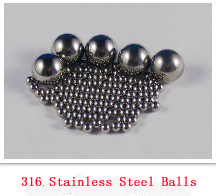 | | |
| --- | --- |
| C | 0.08% max. |
| Mn | 2.00% |
| p | 0.045% max. |
| S | 0.030% max. |
| Si | 1.00% max. |
| Cr | 16.00-18.00% |
| Ni | 10.00-14.00% |
| N | 0.10% max. |
| Mo | 2.00%-3.00% |
| | |
| --- | --- |
| Tensile strength | 90,000 psi |
| Yield strength | 45,000 psi |
| Elongation | 35% |
| Modulus of elasticity | 28,000,000 psi |
| Density | 0.290 lbs/cubic inch |
Application areas:
AISI 316 stainless steel ball is a relatively high demand products, usually used in special
industries such as medical equipment, chemicals, aviation, aerospace: perfume bottles,
sprayers, valves, nail polish, body jewelry, mobile phone panels.
Features:
Austenitic steel, is the most high-grade steel balls, HRC ≤ 26, the most suitable anti-
corrosion requirements of higher industry and the performance is superior to 304 stainless
steel ball.
AISI 316L stainless steel ball compared with softer and more ductile, it is usually used for body
jewelry.
Tell us your balls requirements, the offer will be send you at the first time.










* According to the AISI standard