AISI 304 Stainless Steel Balls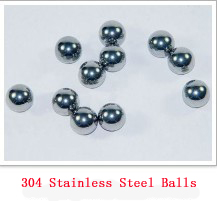 | | |
| --- | --- |
| C | 0.08% max. |
| Mn | 2.00% |
| p | 0.045% max. |
| S | 0.030% max. |
| Si | 1.00% max. |
| Cr | 17.00-19.00% |
| Ni | 8.00-10.00% |
| Molybdenum | ----------- |
| ---------------- | ----------- |
| | |
| --- | --- |
| Tensile strength | 100,000 to 180,000 psi |
| Yield strength | 50,000 to 150,000 psi |
| Elongation | 55 to 60% |
| Modulus of elasticity | 29,000,000 psi |
| Density | 0.286 lbs/cubic inch |
Application areas:
AISI 304 stainless steel ball use of the most extensive and can be used for medical
equipment, chemical, aviation, aerospace, plastics, metal: perfume bottles, sprayers,
valves, nail polish, motors, switches, electric irons, washing machines, refrigerators, air
conditioners, herbal medicine, automobilesaccessories, bearings, instruments, bottles.

Features:
Typical representatives of the austenitic steel, generally non-magnetic and magnetic, but
after a ball of light, to go magnetic, HRC ≤ 26. Good rust and corrosion performance.
Tell us your balls requirements, the offer will be send you at the first time.