AISI 201 Stainless Steel Balls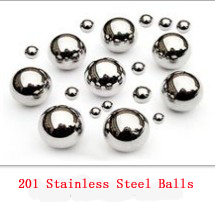 | | |
| --- | --- |
| C | 0.15% max. |
| Mn | 5.5-7.5% |
| p | 0.045% max. |
| S | 0.030% max. |
| Si | 1.00% max. |
| Cr | 16.00-18.00% |
| Ni | 3.5-5.5% |
| Nitrogen | 0.25% max. |
| Copper (type HQ) | ----------- |
| | |
| --- | --- |
| Tensile strength | 100,000 to 180,000 psi |
| Yield strength | 50,000 to 150,000 psi |
| Elongation | 55 to 60% |
| Modulus of elasticity | 29,000,000 psi |
| Density | 0.280lbs/cubic inch |
Application areas:
AISI 201 stainless steel balls are widely used in a variety of hardware industry, handicrafts,
plastic products, such as lamps, switches, motorcycle accessories, luggage, bearings, die
castings.
Features:
Belong to section nickel steels, austenitic steel, non-magnetic, with a low price, excellent
performance. Machinability, welding, drilling, hardness of HRC ≤ 28.
(Note: SOYA to remind you, AISI 201 stainless steel ball can not be used for anti-rust, anti-
corrosion requirements of high industry. such as: seawater or acid).
Tell us your balls requirements, the offer will be send you at the first time.










* According to the AISI standard