AISI 1010/1015 Low Carbon Steel Balls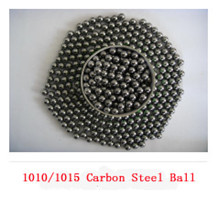 Chemical composition
(1010)
| | |
| --- | --- |
| C | 0.08-0.10% |
| Mn | 0.30-0.60% |
| p | 0.040% max. |
| S | 0.050% max. |
| - | - |
| - | - |
| - | - |
| - | - |
| - | - |
Chemical composition

(1015)
| | |
| --- | --- |
| C | 0.13%-0.18% |
| Mn | 0.30%-0.60% |
| P | 0.040% max. |
| S | 0.050% max. |
| - | - |
AISI 1010/1015 low carbon steel balls usually used in bicycle, caster,
drawer slides, bearings, or grinding other media, it can be high
hardness or soft steel balls.
Low carbon steel balls mainly including AISI1008, AISI1010, AISI1015,
AISI 1020, corresponding to China's steel grades Q195, Q235, etc.


Features:
AISI 1010/1015 low carbon steel balls have magnetic, usually use
oil-based packaging, Can be galvanized, nickel plated, chrome plated,
gold-plated etc.
After heat treatment carburizing process, the hardness of carbon
steel balls can be 50-60HRC. SOYA can also provide soft steel balls
without heat treatment.
SOYA produce carbon steel balls in large quantities, there are a lot of
inventory and production every day, the popular sizes are 3mm, 1/8 inch,
5/32 inch, 3/16 inch, 6mm, 1/4 inch, 5/16 inch, 3/8 inch, 7/16 inch,
1/2 inch, 3/4 inch, 1 inch, etc. Grade: G100 - G1000 or soft balls.
SOYA can also produce very small steel balls less than 3mm, such 0.5mm,
0.68mm, 0.8mm, 1mm, 1/16 inch, 2mm, 3/32 inch, etc.
SOYA can also produce very large steel balls bigger than 1 inch, such as:
11/32 inch, 1 1/8 inch, 1 1/4 inch, 1 1/2 inch, 40mm, 2 inch, etc.
Application areas:
As rolling balls used in ball bearings, ball bearing drawer slides,
caster wheel, bicycle, etc.
Grinding other materials, such as Coffee beans, Food powder, etc.
Stir evenly used in Paint bottle, Nail polish bottle, Cosmetic bottles, etc.
As steel bullets used in slingshot, shotgun, etc.
Carbon steel balls also used in puzzle toys, counterweight, clean metal surface.
Type of packaging:
1, Total 25KG balls packaging in 1 woven, then packaging 1 carton,
40 cartons packaging in 1 wooden box, total 1000KG per 1 wooden box;
2, Total 250KG balls packaging in 1 iron barrel, 4 iron barrel packaging
in 1 pallet, total 1000KG per 1 pallet.
3, Only use woven bags directly loaded in the container, 25 KG balls
packaging in 1 woven bag.
4, Custom packaging according to customer requirements.
SOYA's competitiveness:
For carbon steel balls, SOYA will provide the free samples,
and no MOQ limit, and very competitive prices.
Tell us your balls requirements, the offer will be send you at the first time.